A hit and run. A suspicious death. A vendetta.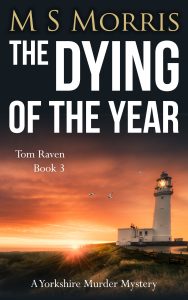 Sam Earnshaw's recovery from a year-long coma should be an occasion for celebration. Instead, he reveals that the hit and run incident that left him close to death was no accident. Someone deliberately pushed him into the path of a speeding vehicle.
As DCI Tom Raven leads the investigation into the attempted murder, he soon uncovers a web of dark secrets and lies. The attempt on Sam's life is not the first time a killer has struck.
And it won't be the last.
As the bodies mount up, Raven is forced into a race against time, whilst facing serious questions about his own life and future.
Set on the North Yorkshire coast, the Tom Raven series is perfect for fans of LJ Ross, JD Kirk, Simon McCleave, and British crime fiction.
Tom Raven® is a registered trademark of Landmark Internet Ltd.